Recipes
Cheese Dip
Brown 16 ounces of breakfast sausage in a large pan. Mix in 1 pint of Gilspicante and simmer for 10 minutes.
(Chopped mushrooms mixed in are good) slowly in large box of Velveeta cheese. Enjoy with tortilla chips)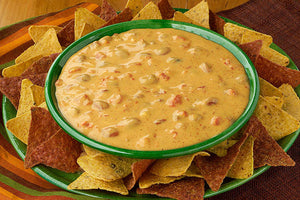 Guacamole Dip
Mash up 5 avacadoes really well and add 1 jar of Gilspicante. Enjoy with tortilla chips!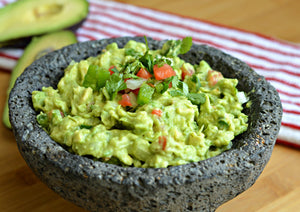 Tex-Mex Rice
(courtesy Rudy Garza Jr.)
(Use Olive or Canola Oil)
-3 Cups Jasmine or Basmati Rice (Long grain rice works best)
-3 Boneless skinless chicken breasts diced or cut into strips-6 Cups hot water or hot chicken broth ( I usually microwave the liquid in the microwave in a large glass microwave proof measuring container like Pyrex)
-Cumin and Garlic to taste as desired (You can use powdered cumin and garlic or use cumin seeds and garlic cloves and grind in a mortar for a fresh taste)
-1 Extra large white onion (cut into quarters)
-1 large bundle of cilantro (chopped)
-1 small bag of baby bell peppers  (tri-colored if you can find it)
-Black pepper and salt to taste as desired
-1 16 ounce can of fire roasted diced tomatoes or Rotel tomatoes. (Brand name preferred).
Before starting make sure to have hot liquid ready. Either hot water or hot chicken broth.

1. In large heavy sauce pan, preferably cast iron or stainless steel, heat the olive or canola oil until hot. Use a wide sauce pan because if you use a narrow one rice will be mushy and sticky. 
2. Add rice and let brown lightly.  You need to stir frequently or it will burn.  Preferably, brown over medium heat after oil heats up. 
3. After rice is brown add chicken and stir until chicken browns slightly (you can cook chicken in a separate pan before adding to the rice if desired). 
4. Add hot liquid but be careful because adding the hot liquid to the hot rice will cause it to splatter. I found out that if you use hot liquid the rice does not come out mushy and sticky. 
5. After adding the hot liquid stir and then add the can of diced tomatoes, onion, cumin and garlic and black pepper and salt to preferred taste. 
6. Chop up cilantro and just lay on top of rice mixture then open bag of small baby bell peppers and lay on top of bed of cilantro. Cover and bring to a boil then turn down to simmer and cook until rice is cooked.  (Do not stir to much while cooking because rice will become mushy.)  Sometimes you will need to add more water depending on the type of cooking pan you use. 
Rule of thumb is for every cup of rice you use,  use 2 cups of liquid.  It always works perfectly for me.
You can substitute beef or pork for the chicken if desired.  If you use beef use beef broth instead of chicken broth.  If you use pork you can use chicken broth.
Pork Rind Tacos
Ingredients: 1 package of pork rinds, 1/2 onion, 1/2 cup mild Gilspicante, 1/2 cup water
Sautéed onions till soft then add pork rinds with 1/2 cup water and Gilspicante. Season with salt, pepper, garlic powder, chili powder to your taste. Cook for about 30 min, stirring constantly. Heat up flour or corn tortillas and serve up like tacos.
Carne Guisada
Sautéed onions 1/2 onion, 1/2 bell pepper, 1/2 tomato set aside when soft. Brown up 1 pound of stew meat, best if you use salt, pepper, cumin powder, garlic powder, chili powder sprinkled on meat. Then lay in white flour, covering all edges and sides evenly. Place in hot greased skillet containing about 2 to 3 tablespoons of oil. After browning the meat, add 1 small can of tomato sauce, 1/2 bottle mild Gilspicante. Add about 2 cups of water  and sautéed vegetables, cook low heat about 45 min till gravy thickens. Serve with corn or flour tortillas.
Summer Sausage
Using summer sausage cut in round circles, combine one slice of Gilspicante Bread & Butter Squash, one round cheese of choice, and one green olive with toothpicks for a delicious appetizer. Optional: do the same with Gilspicante Bread and Butter pickles.
Deviled Eggs
Using 6 boiled eggs, cut into halves lengthwise and remove yolk. Mash yolk in bowl, add 4 tablespoons of mayonnaise, salt and pepper. Dice up about 6 Bread & Butter Pickles, mix in and then fill the centers of the egg whites. Great appetizer!
Charro Beans
In a large sauce pan, combine 3 cups of raw and rinsed pinto beans, 1/2 cup of mild Gilspicante, 1 diced onion, 1 16oz can of diced tomatoes, 1 small package of pork rinds, 1/4 cup of cilantro, and garlic powder/salt/pepper/onion powder to taste.
Bring to boil, cover and let simmer for 90 minutes to 2 hours.